Her legacy
The communities linked to Marthe Robin
In many aspects, the Foyers de Charité, which were founded in 1936, were precursors to the numerous innovative communities that emerged after Vatican II.
Even today, movements or associations whose founders never met Marthe Robin talk about their connection with this great figure of the new evangelisation...
«When you look at what is currently emerging in the Church, we often find Marthe»
Cardinal Decourtray - archbishop of Lyon from 1981 to 1994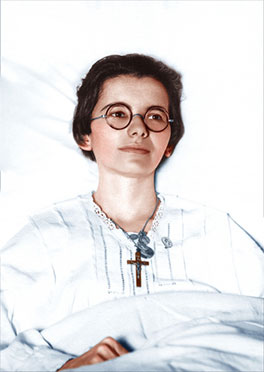 A connection with Marthe Robin that continues today...
Many founders acknowledge the importance of having met Marthe and the impact it had on their discernment as they came in large numbers to discern the calling of the Lord with her. Included in the latter are the founders of the following communities:
Just after founding the Emmanuel Community, Pierre Goursat went to see Marthe. He needed some help in his discernment, because he did not want to take on the leadership of the Emmanuel Community as he was being asked to do by the first members of the community. Marthe's common sense and humour hit the nail on the head: « Say yes », she said, « when you will no longer be needed, they will find a way of telling you!» Later, when the Emmanuel Community settled in Paray-le-Monial, she was the one who insisted that this location should not become the centre of the community, but its... heart.
The postulator of the cause of beatification of Marthe, Fr Bernard Peyrous, came from the Emmanuel Community: when he was discerning whether to accept this mission, his moderator told him :« Say yes! We owe her so much in the Community, this is the least we can do for her.»
Just a few miles from Châteauneuf-de-Galaure, in Lyon, the young Jesuit Laurent Fabre heard about Marthe Robin and paid her a visit, like many priests. The mystic would play an important role in the discernment for the founding of the Chemin Neuf Community. In particular, she spoke the following words to Fr Fabre, who was telling her about the charism of Pentecost of his group: "You must blow on the fire and, what's more, you will pass through it".
We must blow on the fire!
Emmanuel Community, Little Brothers of Mary - Mother of the Redeemer, Little Sisters of Nazareth, Missionaries of Our Lady , "Claire Amitié", Fraternité Bethléem-Saint-Benoît, Communauté Nouvelle Alliance, L'Eau Vive, Focolare Movement, etc...